Luxetips Events: Tiffany's Atlanta First to Debut New Spring 2012 Leather Collection and Interview with Lamberston and Truex
Hello Divas!
Happy Friday!
Yesterday, I had the opportunity to view the new Spring 2012 Tiffany Leather Collection.  The Tiffany and Co. Atlanta store had the special honor of being the first Tiffany store to debut the new collection. This Collection is beyond gorgeous!
Tiffany Leather Collection designers, John Truex and Richard Lamberston were in the store to great guest and sign Tiffany boxes and handbags. Nice!  They were gracious enough to grant Luxetips! a brief interview about the new collection.  If you don't know, John and Richard founded and operated the famous, Lamberston Truex, before joining Tiffany.  Lambertson Truex created beautiful leather accessories and they won the prestigious CFDA Accessories Designer of the Year and the ACE Award for Design Excellence for their brand.
Designers John Truex and Richard Lambertson

Luxetips!:  What was the inspiration in creating this new Tiffany Leather Collection?
John Truex and Richard Lamberston:  The Almafi coast was the inspiration for this new collection.  As you can see we use a lot of the orange and of course, Tiffany Blue, in this collection.  The orange  and blue is reminiscent of the rich colors on the Almafi Coast.
Luxetips!:  How did this collaboration with Tiffany come to fruition?
John Truex and Richard Lamberston:  Tiffany knew of our brand, Lambertson Truex, and our reputation for fine leather goods.  We had many conversations and eventually we received an amazing opportunity to sell our brand to Tiffany while also becoming creative visionaries for the new Tiffany Leather Collection.
Luxetips! Can you tell me more about the materials used to create the handbags?
John Truex and Richard Lamberston: We used a high grain leather that is of high quality and representative of the Tiffany Brand.  We like to use leather that can be manipulated into something esthetically pleasing and that is the right fit for the Tiffany Man or Woman.
And here are the goods. Tiffany Blue everywhere!

This gold clutch was absolutely my favorite piece.  The hardware with the little touch of Tiffany Blue was simply divine. So classic.


In Silver.

I also loved this big roomy python embossed bag.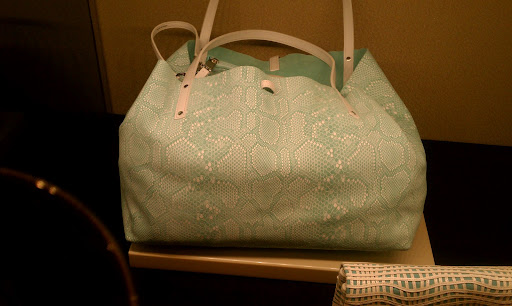 Cute beaded clutch.

Vibrant Tiffany Blue and Red croc embossed clutches!
Fabulous!
Toodles!